Guest For
WEDNESDAY DECEMBER 17, 2008
------------------------------------------------------------------------------------------
GUEST(S):
(Originally aired: April 1992)
(First 30 Minutes)
BARARA NIMRI AZIZ
Radio broadcaster for Pacifica Radio. Freelance writer
&
ANN LEGGETTE
Artist
Keen Observer of World Political & Social Developments
&
(Second 30 Minutes)
FRANCIS BOYLE

Professor of International Law
at the University of Illinois College of Law
-------------------------------------------------------------------------------
The program can be viewed in its entirety by clicking the you tube link below:
Barbara Aziz, Ann Leggett & Francis. Boyle April 1992
------------------------------------------------------------------------------------------
----------------------------------------------------------------------------------------------------------
More about:
BARBARA NIMRI AZIZ, ANN LEGGETT & FRANCIS BOYLE
Barbara Nimri Aziz
Place of residence: New York City.
Birthplace: Canada.
Grew up in: Canada, India, and the Middle East.
Day jobs: Radio broadcaster for Pacifica Radio. Freelance writer.
Education: Master's and Ph.D. at University of London, England.
Serial publications: The Christian Science Monitor. Natural History. Aramco World.
Director and cofounder: Radius of Arab-American Writers, a network of writers of Arab descent. (RAWI, P.O. Box 620 Prince St. Station, New York, NY 10012. Email for Barbara Nimri Aziz: aziz@escape.com.)
Current projects: Two manuscripts-in-progress. The first is titled: Between Two Rivers: The Story of an American Woman's Journey in Iraq. The second is a book about three Nepali women activists.
Favorite book: Madness and a Bit of Hope, poems by Safiya Henderson Holmes (Writers and Readers Publishing Company).
Belief: Arab nationalism.
Cravings: Good radio drama and birds singing in the evening.
--------------------------------------------------------------------------------------------------------------
Ann Leggett was born in New York in 1941 and began a serious study of drawing and painting at an early age. Her first teacher was her mother, Barbara Vaughan Leggett, an accomplished illustrator. She attended Solebury School, Sarah Lawrence College and the Art Students League, where she studied with Robert Beverly Hale, and principally with Frank Mason, to whom she was apprenticed for several years.
She was fortunate to receive a strong foundation in the basic principles of drawing from the model, the use of light and shade, and the preparations of materials: disciplines seldom taught in that part of the 20th Century.
During the early 60's, her projects included a series of portraits of poets. In 1967 she moved to Chiapas, Mexico, where she lived and painted for more than 8 years in a Tzotil-speaking community. There she studied her neighbors' language and culture, and learned many things from them.
Since the late 70's, she has lived in Long Island City, NY, where she is slowly renovating an old house and tending a small garden. Her travels have taken her to several countries in Europe and North Africa. Major commissions include a portrait of retiring Fire Chief Arnold Fischer for the West Tisbury, MA. town hall, and a large painting of seven horsemen for the Permanent Mission of Libya to the UN. She now spends part of the year in Kyoto, Japan.
Solo shows: National Arts Club, New York (three times); Avery Hall at Columbia University; Edward Merrin Gallery, New York; Princeton University, New Jersey (twice); C.G. Rein Gallery, Scottsdale, AZ; Alan-Mayhew Gallery, Martha's Vineyard, MA (three times); Stuart Brent Gallery, Chicago, IL (twice); Wabash College, Indianapolis, IN; Norfolk Academy, Norfolk, VA (twice); Onslow County, NC Arts Council; Block Island, RI Historical Society; the Union League Club, NY; C. G. Lucas Gallery, Indianapolis, IN; and the Art-o-Mat Gallery, Long Island City, NY.
Group shows include: The Fitzgerald Gallery, New York; The Art Students League, New York; The National Arts Club, New York; The Museum of the City of New York; the Field Gallery, Martha's Vineyard, MA; the Grand Central Gallery, NY; Hermine Merel Smith Fine Arts, Martha's Vineyard, MA; and The Hammond Museum, North Salem, NY.
Her awards include: Five first prizes at the Martha's Vineyard Agricultural Society Cattle Show and Fair; The Montague Award for Pastel; and the Bruce Stevenson Award for Portrait.
Ann Leggett is currently represented by Fielder and Fielder, Chilmark, MA; and C. G. Lucas Gallery, Indianapolis, IN
-------------------------------------------------------------------------------------------------------------
Francis Anthony Boyle (born 1950) is a professor of international law at the University of Illinois College of Law. He is a graduate of the University of Chicago and Harvard Law School. He also received a Ph. D. in political science from Harvard University.
Between 1988 and 1992 Boyle was a member of the board of Amnesty International USA. However, Boyle concluded that Amnesty's coverage of the human rights violations of certain countries was biased. An example that he provided was AI's stance during and after the Battle of Jenin in 2002 where AI was instrumental in undermining the establishment of a UN commission of enquiry. Boyle also noted that AI was instrumental in publicizing the "Iraqi soldiers dumping children from incubators in Kuwait" hoax[1]. In 1992, Boyle threatened to sue AI on the basis of reporting bias, but the lawsuit was settled out of court.
From 1991 to 1993, Boyle was a legal advisor to the Palestine Liberation Organization. Boyle is currently a member of the Nobel Peace Prize for Governor George H. Ryan Committee.
Professor Boyle is a controversial figure at the University of Illinois. He advocated for warmer US relations with Libya in the 1990s, and speaks fondly of his interactions with Libyan leader Muammar al-Gaddafi. Professor Boyle has also made comments about the Middle East, accusing Israel of committing "Nuremberg offenses" against the Palestinians, an allusion to the actions of Nazi Germany.
Boyle has also taken a strong stand in favor of Hawaiian independence, and in support of this effort uses a resolution signed by former U.S. President Bill Clinton apologizing for U.S. involvement in the overthrow of the Hawaiian monarchy.
Locally, Boyle is outspoken against a University of Illinois "pub crawl" which celebrates Saint Patrick's Day days prior to March 17th. This "celebration" consists of excess drinking as well as increased vandalism on campus.
More recently Boyle has been on the vanguard of movement to impeach U.S. President George W. Bush. He had previously called for the impeachment of former U.S. President Bill Clinton.
In July 2008, Boyle offered to represent Iran against the United States. He has urged Iran to sue the United States in the International Court of Justice in The Hague in order to discourage a military attack on Iran's nuclear facilities and prevent the imposition of new sanctions by the U.N. Security Council. [2]
Boyle has compared Israel to Nazi Germany[3] and said that he is ready to "represent Iran in an international tribunal for trying the Zionist regime on charges of genocide of Palestinians"[4]
-------------------------------------------------------------------------------------------------------
CounterPunch
October 11, 2002
Bush's Banana Republic
by FRANCIS BOYLE
George W. Bush was never elected President by the People of the United States of America. Instead, he was anointed for that Office by five Justices of the United States Supreme Court who themselves had been appointed by Republican Presidents. Bush Jr.'s installation was an act of judicial usurpation of the American Constitution that was unprecedented in the history of the American Republic. Had it occurred in a developing country, such a subversion of democratic process would have been greeted with knowing derision throughout the West. What happened in America could only be likened to a judicial coup d'etat inflicted upon the American People, Constitution, and Republic. There should now be no doubt that the United States Supreme Court is governed by raw, naked, brutal, power politics. Justice has nothing at all to do with it. This Supreme Court's constitutional sophistry proved a harbinger of the new administration's disrespect for the Rule of Law, whether domestic or international.
BUSH JR.'S CONSTITUTIONAL COUP D'ETAT
From the Supreme Court's installation of Bush Jr. as President to the Ashcroft/Federalist Society post-September 11 regime of police state "laws," the politico-legal functioning of America is increasingly resembling that of a Banana Republic. Since September 11th, we have seen one blow against the U.S. Constitution after another. For example, Attorney General John Ashcroft unilaterally instituted the monitoring of attorney-client communications despite the Fourth Amendment ban on unreasonable searches and seizures and the Sixth Amendment right to representation by Counsel in criminal cases. He just went ahead and did it, without even bothering to inform anyone.
Over 1100 aliens have been picked up and "disappeared" by Ashcroft and his Department of Injustice. The American People have no idea where most of these people are. They are being held on the basis of immigration law, not criminal law, for a period of detention which has not been defined.
Ashcroft proclaimed another ukaze that these immigration proceedings must be held in secret. The phenomenon of "enforced disappearances" is considered to be a crime against humanity by Article 7(I)(i) of the Rome Statute for the International Criminal Court.
It appears that many of these aliens have been deprived of their basic human rights to consular notification and access as set forth in the 1963 Vienna Convention on Consular Relations, to which the United States is a contracting party and which even the U.S. State Department concedes constitutes binding customary international law. Apparently Bush Jr.'s left hand does not care about what his right hand does. Yet another international convention set at naught.
The one characteristic these detained foreigners have in common is that they are mostly Muslims, Arabs, and Asians. Everyone needs a scapegoat for the 11 September tragedy, and it looks like we have one, both at home and abroad. Thousands more such aliens are being moved into the pipeline for the Ashcroft gulag by the FBI.
Ashcroft is now planning to reinstate the infamous COINTELPRO Program, whose atrocities against the civil rights and civil liberties of the American People have been amply documented elsewhere.
It is just a matter of time before the Bush Jr. Leaguers unleash the newly-augmented powers of the FBI, CIA and NSA directly against the American People. And we already have 2 million Americans rotting away in prison -- the highest rate of incarceration in the world, a disproportionate majority of whom are Americans of Color, victims of the Nixon/Ford, Reagan/Bush, and Clinton administrations' racist "war on drugs," which is really a war against People of Color. The American Police State has already arrived for People of Color!
ASHCROFT'S POLICE STATE
This brings the analysis to the Ashcroft Police State Act. There are no other words to describe it. While Bush failed to get a formal declaration of war that would have rendered him a constitutional dictator, clearly Attorney General John Ashcroft and his right-wing Federalist Society lawyers took every piece of regressive legislation off the shelf, tied it all into what they called an anti-terrorism bill, and then rammed it through Congress, giving it the appropriately Orwellian name of the . Patriot Act.
According to one report, Ashcroft's first draft would have had Congress suspend the ancient Writ of Habeas Corpus - the necessary prerequisite for imposing a police state in the United States of America.
Many Members of Congress publicly admitted that they did not even bother to read the Ashcroft Police State Act. Another Congressman said basically:
"Right, but there's nothing new about that." Interestingly enough the so-called liberal Democrats in the House and the Senate were willing to give Bush Jr. and Ashcroft more police state powers than the conservative Republicans in the House. But there are no real differences that matter between Republicans and Democrats when it comes to promoting America's self-proclaimed "Manifest Destiny" to control the World and now Outer Space too.
BUSH'S KANGAROO COURTS
It would take an entire law review article for me to analyze all the legal and human rights problems with the Bush Jr.'s proposed military commissions. Here a cabal of Federalist Society Lawyers in the White House got President Bush to sign an Executive Order on 13 November 2001 which, when implemented, will be widely recognized to constitute a grave breach of the Geneva Conventions and establish a prima facie case of criminal accountability against the President himself.
It is emblematic of this particular war that right towards its very outset President George W. Bush personally incriminated himself under both international criminal law and United States domestic criminal law.
The Bush Jr. administration has severely undermined the integrity of the Four Geneva Conventions of 1949. By doing this, the Bush Jr. administration has opened up U.S. Armed Forces and civilians around the world to similar reprisals, which has already happened.
As a licensed attorney for 25 years, a law professor for 23 years and someone who has done a good deal of criminal defense work in U.S. Federal Courts, I am appalled by the insinuation of these Federalist Society Lawyers that America's Federal Courts established by Article III of the U.S. Constitution cannot hold accountable those responsible for the crimes of 11 September 2001. This is an insult to all Federal Judges, Federal Prosecutors, Federal Public Defenders and all the Lawyers who are Officers of these Courts.
In one fell stroke these Federalist Society lawyers have besmirched and undermined the integrity of two Branches of the United States Federal Government established by the Constitution - the Presidency and the Judiciary. So far the U.S. Congress has supinely gone along with the Bush Jr. police state agenda. If and when these Bush/Ashcroft police state practices make their way to the U.S. Supreme Court, many of them will probably be upheld. After all, a 5 to 4 majority of the Supreme Court already gave the Presidency to Bush Jr. We need to seriously consider whether they would strike down laws and practices that would give Bush Jr. a Police State as well.
Philosophers have taught that a People get the type of government they deserve. If the American People permit the Bush Jr. Leaguers to impose a Police State at home in the name of furthering Pax Americana abroad, we will have deserved it by abnegating our responsibilities as Citizens living in what is supposed to be a constitutional Republic with a commitment to the Rule of Law. The same thing happened to the Romans and to the Athenians. The United States of America is not immune to the laws of history.
Sic transit gloria mundi!
Francis A. Boyle, Professor of Law, University of Illinois, is author of Foundations of World Order, Duke University Press, and The Criminality of Nuclear Deterrence, Clarity Press. He can be reached at: FBOYLE@LAW.UIUC.EDU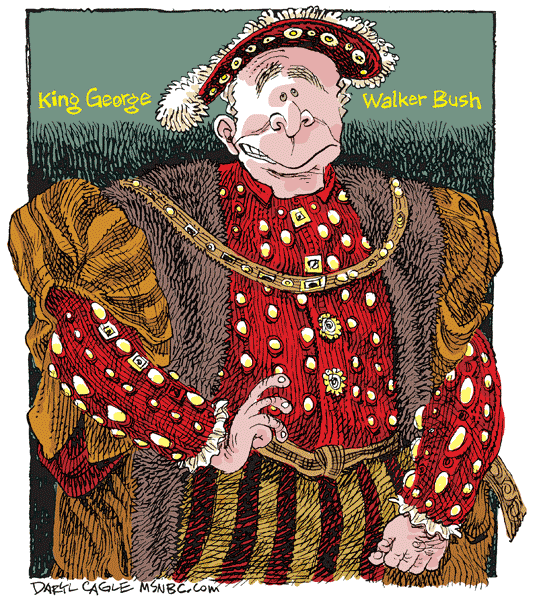 ---------------------------------------------------------------------------------------------------------------------------
Wednesday December 17, 2008
Individual programs can be viewed each week day
10:30 - 11:30 AM / (NYC Time)
Channel 34 of the Time/Warner & Channel 82 of the RCN
Cable Television Systems in Manhattan, New York.
The Program can now be viewed on the internet at time of cable casting at
www.mnn.org

NOTE: You must adjust viewing to reflect NYC time
& click on channel 34 at site
------------------------------------------------------------------------