Guest For TUESDAY APRIL 26, 2005
/smaller>/fontfamily>/flushboth>
________________________________________________________________________
L. SOMI ROY

Karen Helmerson (Director of the Electronic Media and Film, NYSCA) and Somi Roy
Rice paddies in Imphal Valley, Manipur.
Somi Roy and choreographer Yoshiko Chuma with Manipuri male shaman
priestess Kumar Maibi.
Traditional Manipuri polo in the land where the game originated.
Dancers in Sanjenba, a traditional Manipuri classical opera ballet
for children.
Tomba as Osama bin Laden in World Trade Centre, Manipuri courtyard
comic melodrama, 2001.
Manipuri market woman.
Filmmaker / Film & Media Curator / Arts Producer
----------------------------------------------------------------------------------------------------------------------
More About: L. SOMI ROY
L. Somi Roy is a New York- based filmmaker and a film and media
curator and arts producer specializing in Asian and Asian American
cultures.

Roy currently develops international projects for Appalshop, the
Appalachian arts collective in Kentucky. These projects introduce and
explore the concept of re-mapping: creating new cultural cartographies
that make new connections between transnational regions. Projects such
as Appalshop in China, which took place in Sichuan and Yunnan in 2003
and will enter its third phase in May 2005, and AppalSeeds: Appalshop
in Indonesia, planned in 2006, extend and apply the Appalshop model to
regional self-representation, cultural preservation and conflict
resolution for Asia in the age of globalization.

Roy is currently extending these exercises in international cultural
interaction with international projects in the little-known, forbidden
Eastern Himalayan region of northeastern India. He is the Executive
Director of First Pitch: The US Manipur Baseball Project and is
producing A Page Out of Order, choreographer Yoshiko Chuma's
exploration of the culture of violence and conflict in Eastern Europe,
Manipur and Cambodia.

During his tenure as Executive Director of International Film Seminars
from 1998 to 2002, he organized the annual Robert Flaherty Film
Seminar on non-fiction film. He also initiated filmmaker exchanges,
started a digital archival project, and, in 2001, he extended the
scope of the seminar with Digital Flaherty, an interactive conference
on the theory, aesthetics and content of digital art.

As an independent curator, from 1990 to 1998, Roy organized film
exhibitions for major arts institutions, including the Museum of
Modern Art (Indonesian Film Festival), Whitney Museum of American Art
(Indian-American Film and Video), the Smithsonian Institution
(Southeast Asian Cinema), Film Society of Lincoln Center (Films on
Immigration), The Asia Society (British Asian Cinema), and Tibet House
(The Tibet Film Festival). In addition to Asian cinema, he has
curated animation exhibitions for the Atlanta Olympics and the Women's
Conference in Beijing, and organized and curated New York's first
on-going exhibition of video art at the Continental Insurance Atrium
from 1992-1995. His exhibitions have been shown in most major museums
in the United States and in China, India and Indonesia.

While at The Asia Society from 1984 to 1990, he developed and
programmed a year- round film program which included the first
American exhibitions on Vietnamese cinema, Fifth Generation Chinese
cinema, Hong Kong popular films, and Iranian cinema. He introduced
thematic programming with exhibitions such as Germany in Asia, Looking
Back: The Chinese Cultural Revolution and Asian Women Directors, as
well as The Asia Society's first video installations, and programs on
Iran and Taiwan. In 1985, with Asians in American, he started an
annual film exhibition of works by and about Asian Americans.

Roy has taught at New York University and Manhattan Marymount College;
given talks at the National Geographic Society and the Smithsonian
Institution; translated Manipuri literary works into English; and
written for Artforum, Asian Culture (the Smithsonian), Wide Angle,
Black Film Bulletin (London), The Drama Review and Persimmon.

Roy is currently producing a film about Manipuri baseball directed by
Mirra Bank and is writing a film on spring festivals and romance in
Manipur for director Angana Jhaveri. His film, World Trade Center
(2002) was screened at the 2002 Margaret Mead Film Festival.

KhadiShop, his clothing line produced in partnership with fashion
designer Lata Karna, launches in May 2005. The line will market
garments made of Khadi, the world's only fabric with a political
philosophy, one that has its origins in Gandhi, Thoreau and Emerson.

Roy divides his time between New York City and Manipur.

--
THIS IS MY NEW EMAIL.
I WILL KEEP RECEIVING MAIL AT somi.roy@verizon.net.
YOU CAN SEND YOUR MAIL TO TO EITHER ADDRESS.

--------------------------------------------------------------------------------------------------------------------------------------------------
Showing 1 of 17 Pictures

MANIPUR FIELD TRIP 2004: A MEDIA PRESENTATION AT THE ASIA SOCIETY, NEW YORK CITY, APRIL 12, 2005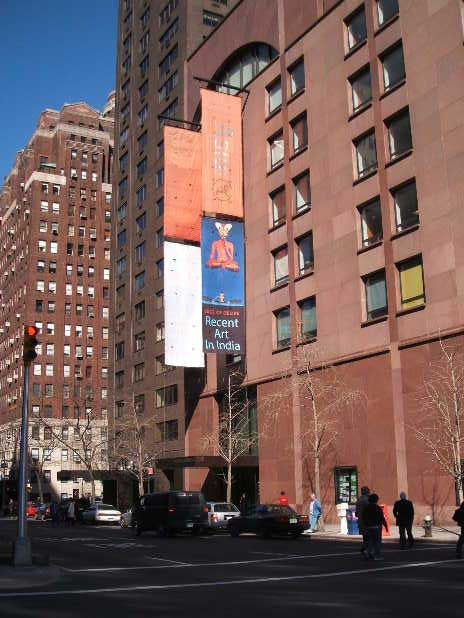 The entrance of the Asia Society at Park Avenue where the Asian Cultural Council in association with The Asia Society presented "THE MANIPUR FIELD TRIP 2004"
The media presentation was on an arts and cultural exchange program in Manipur in the Eastern Himalayan region of Northeast India .
The Manipur Field Trip for American Artists, took place from November 18-27, 2004. The project was conceived of and organized by L. Somi Roy and the participants were Les Blank, Yoshiko Chuma, Zette Emmons, Erin Mee, Muriel Peters and Bonnie Sue Stein. Its 70-plus events were designed for the American artists and arts producers as a cultural immersion in the society and culture of Manipur.
PHOTO: Shinobu Koide
Weblogs for this Manipur visit at:- http://www.geocities.com/manipurfieldtrip/index.html.
--------------------------------------------------------------------------------------------------