Guest For Thursday April 21, 2005
----------------------------------------------------------------------------------------------------------------------------------------------
Due to a mishap the program with Dr. DAVID MELLINS WAS NOT AIRED as
originally scheduled on Wednesday April 20. It WILL be Aired Thursday April 21.
We apologize to the viewers & the GUESTS & will also attempt to reschedule the
programs in the time ahead. HHC
------------------------------------------------------------------------------------------------------------------------------
DAVID MELLINS Ph.D
Adjunct Professor of Sanskrit Poetics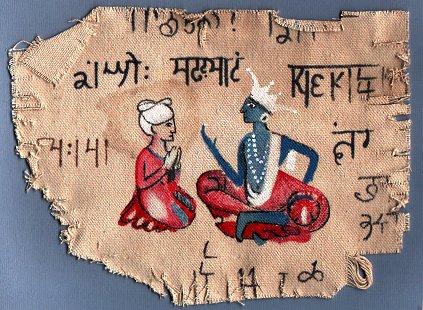 Columbia University
----------------------------------------------------------------------------------------------------------------
More About: DAVID MELLINS Ph.D
RÚsumÚ
DAVID MELLINS Ph.D
EDUCATION

Columbia University

Ph.D. - Department of Middle East and Asian Languages and Cultures
(MEALAC). Sanskrit Poetry and Poetics. Dissertation: The Cool Rays
of Aesthetics and Reasoning: Jayadeva's Candraloka and its its role
in the Evolution of Alamkarasastra. Advised by Dr. Gary Tubb and
Dr. Indira Peterson.

M.Phil. - MEALAC. Sanskrit Poetry and Poetics.

M.A. - MEALAC. South Asian Literature.

B.A. - Religion.

EXPERIENCE

Columbia University - Full Time Lecturer, Department of Middle East
and Asian Languages and Cultures (MEALAC). Courses Instructed:
Intermediate Sanskrit; Classical Indian Literary Theory; Great
Indian Epics.

Lecturer, MEALAC.
Elementary Sanskrit.

Rutgers University - Lecturer, Department of Religion.
Courses Instructed: World Buddhist Traditions;
Introduction to Religions of the Eastern World.

Columbia University - Preceptor, Asian Humanities.
Asian Humanities: Major Texts.

Barnard College - Teaching Assistant, Asian Humanities.
Introduction to Indian Civilizations.

United Nations Development Program - Consultant.


LANGUAGES

Sanskrit; reading ability in Classical Tibetan and Pali;
conversational Nepali; French; Spanish; reading ability in German.

PUBLICATIONS

The Cool Rays of Aesthetics and Reasoning: Candraloka and its its
role in the Evolution of Alamkarasastra (Pratibha Prakashan;
forthcoming).

WORKS IN PROGRESS

"Phoneme as Signifier: Nirdesa and Reflexive Designation In
Jayadeva's Candraloka." Journal Article.

CONFERENCE PRESENTATIONS

"A Heatless Fire: Jayadeva Piyusavarsa's Censure of Poetry lacking
Ornamentation." American Oriental Society

RESEARCH ABROAD

Varanasi, India
Kathmandu, Nepal
---------------------------------------------------------------------------------------------------------------------------
ABSTRACT (Dissertation)

The Cool Rays of Aesthetics and Reasoning:
Jayadevaĺs Candrāloka and its Role in the Evolution of ĀlaŘkÓra¸Óstra

This dissertation is an intensive study of Jayadevaĺs Candrāloka, a medieval Indian treatise on poetics, accompanied by a partial translation of the work and its three principal commentaries from the original Sanskrit. The dissertation is divided into two parts, the first devoted to the critical analysis of the text, and the second, the translations and explanations of selected portions of the treatise and translations of the commentaries to these portions. The analytical section shows how misleading approaches toward the history of alakāraśāstra have led modern scholars to neglect the more innovative contributions of the Candrāloka to Indian poetic theory. It elucidates Jayadevaĺs critique of Mammaaĺs Kāvyaprakāśa, one of the more revered treatises in Sanskrit poetic tradition, and explains how the Candrāloka restructures the prominent topics in alakāraśāstra in order to accommodate the evolving analytical dimension within Sanskrit literary culture. While semantic theory emerges as an essential topic in Sanskrit poetics in treatises composed at the turn of the first millennium and thereafter, in the majority of these works, the execution of semantic analysis occurs at the beginning of works and provides a necessary context for the authorsĺ aesthetic positions. In the CandrÓloka, Jayadeva performs his semantic investigation subsequently to his technical and aesthetic evaluation of poetry. Through such a sequence, Jayadeva demonstrates that aesthetic theory significantly informs the epistemological evaluation of language. This dissertation argues that by reformulating the relationship between aesthetics and logic, Jayadevaĺs CandrÓloka serves an important theoretical bridge between the canonical
posture observed in alaŘkÓra¸Óstra works of the early second millennium, such as the KÓvyaprakÓ¸a, and the more analytically vigorous theory of poetics found in the seventeenth century work of Jagannātha Paitarāja.
-------------------------------------------------------------------------------------------------------------------------
A Heatless Fire: Jayadeva Pīyň¨avar¨aĺs Censure

of Poetry Lacking Figures of Speech


David Mellins, Ph.D., Lecturer, Columbia University

This paper examines the controversy within Sanskrit literary circles concerning the requirement of figures of speech in poetry. The investigation centers around Jayadeva Pīyň¨avar¨aĺs critique in his CandrÓloka that those who allow for poetry lacking figures of speech should also allow for fire lacking heat. While this sarcasm appears to be directed at Mamma˝a, who in his KÓvyaprakÓ¸a states ôspeech and meaning that is flawless and possesses poetic qualities (gu§a) is poetry, even if it sometimes lacks figures of speech,ö Mamma˝a in part insulates himself from such criticism, qualifying that when poetry lacks figures of speech, the figures must still exist in an unmanifest (asphu˝a) state. VaidyanÓtha PÓyagu§ˇa and GÓgÓbhatta the two most important commentators to the CandrÓloka, present opposing interpretations. VaidyanÓtha states that Jayadevaĺs criticism is only provisional, and that ultimately Jayadeva intends to affirm Mamma˝aĺs view. GÓgÓbha˝˝a, on the other hand, holds Jayadevaĺs critique to be categorical and proceeds to refute Mamma˝aĺs notion that the presence of Ĺunmanifest' figures of speech qualifies speech and meaning as poetry. While P. V. Kane and Narayana Shastri Khiste have both identified Jayadevaĺs criticism of Mamma˝a, no one has investigated this controversy in the light of the commentaries to the CandrÓloka and those to the KÓvyaprakÓ¸a; nor has anyone evaluated Mamma˝aĺs definition of poetry according to the standards of dhvani formulated by Ānandavardhana in the DhvanyÓloka. In consideration of these sources, this study concludes that Jayadevaĺs critique points to Mamma˝aĺs deviation from Ānandavardhanaĺs interpretation of the relationship between suggestion (dhvani) and figure of speech (alaŘkÓra) in poetry.
________________________________________________________________________
Thursday April 21, 2005
/ 10:30 - 11:30 AM / (NYC Time)
Channel 34 of the Time/Warner &Channel 107 of the RCN&nbsp
Cable Television Systems in Manhattan, New York.
The Program can now be viewed on the internet at the time of cable casting at:
www.mnn.org

NOTE: You must adjust viewing to reflect NYC time & click on channel 34 at site
------------------------------------------------------------------------------------------------------------------------